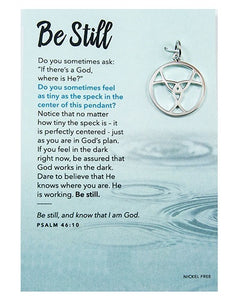 1" Diameter
When you feel the slightest tremor of fear or weariness stop all work...stop everything. Rest with God until you are joyful and strong again. See the little dot in this pendant gaining strength as it is perfectly centered and surrounded by the Spirit? That's you. You are perfectly centered in His plan for you. He knows where you are. Rest.
Adjustable Nickel Free Chain Included.
Choose between sterling silver and rhodium plated.