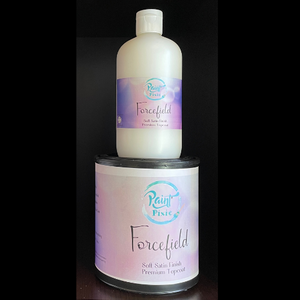 This amazing top coat has been formulated to provide you with the hardest most durable finish ever! Perfect for wood, bath tubs, countertops, ceramic tile, metal, ETC…
May also be used as a barrier coat in between dark stains such as mahogany, when using light colored paint, to help prevent bleed through.
Made for indoor and outdoor use.
It is non-yellowing UV protected product.
Allow to dry and harden for at least 4-6 hours before applying second coat.
Surface will be completely cured and at its hardest after 7 days.
Here is a list of reasons why you will LOVE all of the Magical Chaulk Paint line of products

Self levels, this is great for beginners who haven't mastered how to paint without leaving brush strokes.
It dries smooth to the touch not like most chalk paints
We offer 2, 8, 12oz sizes in squirt bottles.
Don't have to transfer your paint into a separate squirt bottle
The 2oz size is perfect for your workshops or those who paint on canvas.
32oz comes in a plastic can so no more rusty cans and if you keep the lip clean you can pop the lid on.
A little goes a long way
Can be reactivated with water if you want to do some blending after your paint has dried
It does have some acrylic and calcium carbonate in it so it will dry to a hard finish when it cures out.
Zero VOC, and is considered a green product.
Highly pigmented, made with the best organic pigments from the earth not man made pigments.
The bright colors are very vivid and vibrant
The metallics are highly pigmented yielding excellent coverage. (we have 8 colors to offer)
Works well when using other brands with it
Colors blend beautifully together
Forcefield is our premium topcoat with UV protection, graded for outdoor use, can be used as a barrier coat to stop bleed through, dries to what I call a soft satin finish.
Meltdown topcoat dries with the look of wax without the work of waxing. It can be applied with a rag as well as a brush although I haven't tried that yet.
Bee's Knees Wax is a solvent base so it dries very hard
Sheer Beauty Glaze is clear so you can mix it with whatever paint color you want
Undercover Primer is our bonding primer comes in Coconut (white) and Coffee (dark brown)