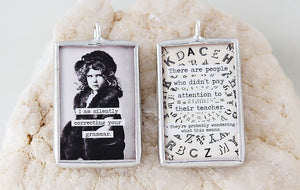 1 charm - 2 sides
Side 1 - "I am silently correcting your grammar."
Side 2 - "There are people who didn't pay attention to their teacher. They're probably wondering what this means."
Our two-sided soldered charms are hand soldered in the Minnesota studio, so little variations are not only accepted, but expected and add to the charm of the piece.
Materials: glass, paper, lead free + jewelry grade solder.
Dimensions: Soldered charm 1" x 1 1/2".
Please note: This listing is for one charm only. The photo shows both the front and back side of the charm.