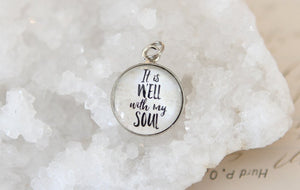 The story behind the hymn "It Is Well With My Soul" is such a beautiful story of the power of faith. Horatio G. Spafford, a Chicago businessman, wrote it after losing his four daughters when their ship sank Atlantic. As he sailed aboard another ship to meet his grieving wife in Wales, he was inspired to write the hymn on his journey.
The glass bubble charm is shown set in a silver-plated solid edge setting. 
Dimensions:
Bubble Charm: 3/4" diameter
Materials: silver plated brass, glass, paper
Each charm is handmade in their Minnesota studio.