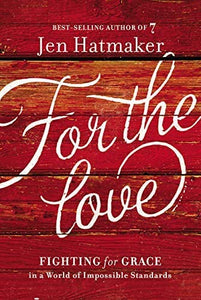 Bestselling author Jen Hatmaker is convinced life can be lovely and fun and courageous and kind. She knows how the squeeze of this life can make us competitive and judgmental, how we can lose love for others and then for ourselves. She reveals how to:
Break free of guilt and shame by dismantling the unattainable Pinterest life.
Learn to engage our culture's controversial issues with a a grace-first approach.
Be liberated to love and release the burden of always being right.
Identify the tools you already have to develop real-life, all-in, know-my-junk-but-love-me-anyway friendships.
Escape our impossible standards for parenting and marriage by accepting the standard of "mostly good."
Laugh your butt off.
In this raucous ride to freedom for modern women, Jen bares the refreshing wisdom, wry humor, no-nonsense faith, liberating insight, and fearless honesty that have made her beloved by women worldwide.