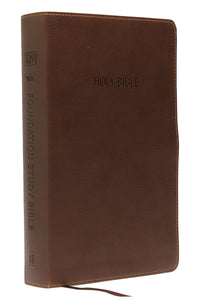 The perfect foundation for Bible study and the Christian life. Build your life on it! The Foundation Study Bible is a thorough, portable, and affordable Bible for students of God's Word at any level. It has the most important helps for basic study, whether you're just beginning or brushing up on essentials. Concise study notes provide helpful comments on passages of Scripture while theological notes draw attention to important doctrinal content.
Intended for both beginning and experienced students of Scripture who want a Bible that contains the key features of a study Bible in a convenient and compact size, the KJV Foundation Study Bible is perfect for students, church leaders, and homeschool use.
Today, more than 400 years since its initial publication, the bestselling King James Version Bible continues to inspire, encourage, and strengthen people from all walks of life. The KJV is considered one of the most influential and beautiful works of literature in the English language and continues to be the favorite translation for millions of Christians.
Features include:
Trustworthy, time-honored KJV text
Cross references
Verse-by-verse study notes and theological notes
Words of Jesus in red
Index
Concordance
Full-color Bible maps
8-point type size
 Part of the Signature Series line of Thomas Nelson Bibles
 The King James Version - The most successful Bible translation in history with billions of copies published