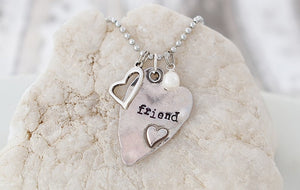 The hand stamped rustic heart charms are created in the Minnesota studio, so little variations are not only accepted, but expected and add to the charm of the piece. It is shown strung on our 30" signature ball chain along with a silver-plated brass heart and a freshwater pearl.
Dimensions: 
Heart Charm : Approximately 1" wide x 1.5" long

Materials: silver plated brass.