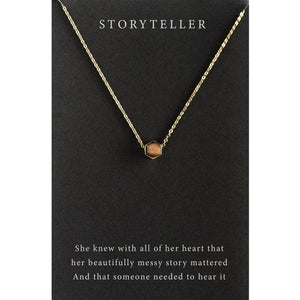 Romans 10:14 says "How, then, can they call on the one they have not believed in? And how can they believe in the one of whom they have not heard? And how can they hear without someone preaching to them?"
Card reads: "She knew with all of her heart that her beautifully messy story mattered and that someone needed to hear it."
You are a story teller, Sister. I chose this hexagon with all of it's sides to represent the many different stories that we carry with us, knowing that Jesus is the key and center of them all.
This piece includes a 6mm pendant. Chain and pendant are gold plated over brass. 16" Chain
Made in United States of America