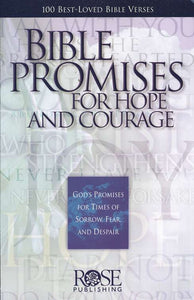 Bible Promises for Hope and Courage
 is packed with 100 of God's promises of comfort and love for His children. Scripture, taken from the NIV, addresses topics including loneliness, worry, contentment, courage, peace, assurance of salvation, guidance, and more. The 14-panel fold-out format presents a wealth of information in an attractive format. In addition to personal use, 
Bible Promises
 is a bestselling resource that's perfect for pastoral care, prayer ministries, lay counseling, personal devotions, outreach, and many other ministry situations.