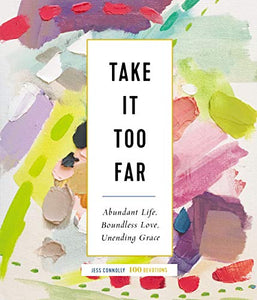 Does the fear of failing hold you back? Do you ever find yourself hesitant to use your gifts because you're afraid you'll fail? Bestselling author Jess Connolly offers you 100 devotions that challenge women to Take It Too Far in all the good stuff--worship, service, love, forgiveness, and more--as they bring their full selves, gifts, and voices to everything they do.
Several years ago, Jess began using the phrase "take it too far" as a motto for her spiritual life. She found that those four words freed her to recognize and use her God-given gifts to serve others. In this beautiful devotional for women, Jess:
Explores topics such as peace, rest, purpose, hope, wonder, discipline, and courage
Shares 100 entries that include a Scripture verse, personal reflections, and a conclusion that shows you how you can take it too far

 

today
This is a great self-purchase for anyone wanting an abundant life, boundless love, and unending grace. Take It Too Far makes a perfect gift for birthdays, Mother's Day, Galentine's Day, Christmas, or anyone looking to deepen their faith. Inside you'll find a:
presentation page for easy and thoughtful gifting
table of contents for quick reference
heartfelt foreword from Jess's husband Nick Connolly
beautiful two-color interior
With the Holy Spirit's guidance and Jess's freeing charge, you will be inspired to bring your full self, gifts, and voice to your work, family, and relationships. The possibilities are endless when you tell God you're ready to Take It Too Far.