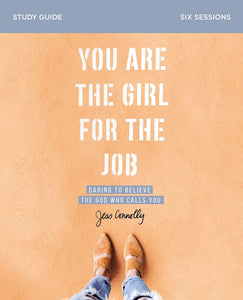 Life is too short to get stuck in a holding pattern.
Have you ever let doubt, hesitation, and comparison hold you back from embracing that deep tug on your heart–your calling from God? The lie far too many of us believe is that we are not the right person to impact whatever circumstance or situation we face. But the truth is that God has placed you exactly where you are for exactly what is before you. You ARE the girl for the job.
This video Bible study will not only show you how to make a difference, but it will give you a jumpstart into confident, purposed living. Face your fears, catch the vision, make a plan, and finally live like you believe you were destined for God's call on your life. Dive into Scripture and see just how perfectly planned every element of your story has been to get you right here, right now, ready and fully equipped to take off and join God in His mission.
The You Are the Girl for the Job Study Guide includes video teaching notes, group discussion questions, and weekly personal study activities to engage your heart, head, and hands with His truth.
Sessions include: 
Let's Quit
Who?
What?
Face the Fear
Catch the Vision
Because God Says So
Designed for use with the You Are the Girl for the Job Video Study